Adult Phone Chat With Babestation Babes
Looking for an exciting and stimulating adult phone chat experience? You're in luck because Babestation offers affordable cheap phone sex and UK sex lines. Nowhere else online can provide you with the opportunity to engage in a one-on-one sex chat with such a diverse selection of attractive women. You can connect directly to a live phone sex session with any of the Babestation babes. We have a wide range of the best babe channel babes, British porn stars, UK glamour models, and more, all eagerly waiting to take your call. Babestation has been in operation for over 20 years, and many of our popular babes from years ago are still available today. You can currently engage in a mature phone sex chat with a hot MILF Babestation babe! All you need to do is register and top up your credits to enjoy a credit card phone session with the woman of your dreams.
Cheap Phone Sex Get More For You Money!
It doesn't stop there, we have more! When it comes to lovers of affordable sex chat lines in Britain, Babestation is the ultimate destination as it is the largest provider of mobile phone sex. Along with our stunning Babestation models, we offer a wide range of inexpensive adult phone chat options. Whether you prefer amateur girls who are eager to take your call and fulfill your desires or fetish mistresses who enjoy dominating through a live phone sex line – the choice is yours. With just one click, you can have access to MILF phone sex, big boobs phone sex, granny phone sex, lesbian phone sex, and much more. We have hundreds of numbers for affordable sex lines and thousands of sexy phone sex babes who are ready for some naughty conversation.
What Are The Benefits?
Phone sex provides a means for individuals to delve into their deepest emotions and divulge them to another person without the need for any obligations or discomfort. It offers a secure and anonymous setting in which individuals can freely express their longings and fantasies. For those who are not prepared for physical intimacy or who are engaged in long-distance relationships, phone sex can be an excellent alternative. Moreover, it can assist couples in revitalizing their sexual experiences by venturing into novel concepts and scenarios. Nonetheless, it is crucial to exercise caution during phone sex by establishing limits and valuing each other's comfort levels.
Live Sex Cams – Phone Sex With Extra Dimensions!
Remember, Babestation is the largest provider of live sex cams in the UK! If you're looking to add some excitement and enjoy both audio and visual experiences, you can choose from a wide selection of British Babestation babes or thousands of international babes who are currently online. Engage in a steamy and explicit porn cam session, where you can interact with the babe and witness her actions simultaneously. The great news is that you can use the same credits for both your phone sex sessions and Babestation! For over two decades, eager individuals have been indulging in the pleasures offered by Babestation.
Dirty Live Sex Chat With Babestation Porn Babes:
Babestation TV is the platform for pervcam models, live babeshow performers, and of course, adult film stars! You have the opportunity to engage in explicit phone conversations with renowned British porn stars like Michelle Thorne, Jasmine Jae, or Victoria Summers and discover just how indulgent they can be.
Michelle Thorne
Michelle Thorne is a highly popular and respected British adult film actress, who has gained immense recognition in the industry. Her successful career has spanned over two decades, starting from the early 2000s until today. Despite her petite height of 5' 3", Michelle Thorne possesses an appealing body shape with measurements of 32E-22-32.
Michelle Thorne began her career in the glamour magazine industry and on page 3 when she was 18 years old. She posed topless, showcasing her ample breasts, and also appeared in nude photographs while wearing nylon stockings. This was a period when the popular aesthetic in glamour involved large artificial breasts and peroxide-blonde hair, which Michelle embraced. She quickly gained recognition as the UK's equivalent of Pamela Anderson, but what set Michelle Thorne apart were her captivating British porn videos and daring images.
Michelle Thorne XXX, a well-known performer in the mature British adult film industry, has made numerous appearances on popular babe channels in the UK. These include Red Light Central, S66 (studio66), and Xpanded. Known for her voluptuous figure, particularly her ample bosom and stunning blonde hair, Michelle was regarded as the ultimate blonde bombshell on babe shows. Her impressive double D breasts have been associated with words like "delicious and delectable." If you're interested, make sure to explore the live babe shows that Michelle hosted for Babestation unleashed in our exclusive VIP area.
Jasmine Jae
Jasmine Jae is widely recognized for providing the most intimate experiences as a British porn star. Her nude, curvaceous body and long dark hair have garnered great excitement from her fans, who often fantasize about her. Jasmine is quite experienced in both solo performances and collaborations with partners. She has made multiple appearances on Babestation X, where she has participated in some incredible scenes captured from various angles, including doggy style and POV. Her lesbian encounters with Victoria Summers are considered iconic in the BSX series, and her girl-on-girl scenes in Hot Tub Hotties are incredibly arousing. If you prefer boy-girl content, Fifty Shades of Anal showcases Jasmine's sexual prowess alongside her husband Ryan Ryder.
As stated in her Twitter profile, she holds the distinction of being the sole British Adult actress to receive the AVN Foreign Female Performer of the Year Award in 2018. It's no surprise that she is highly regarded in her field. She entered the UK porn industry relatively late, at the age of 31 in 2012. After a meeting with porn actor Keiran Lee, she was invited to participate in a shoot for Brazzers. Since then, she has enjoyed continued success, collaborating with renowned producers such as Evil Angel, Digital Sin, Pure XXX Films, Harmony Films, Jasmine Jae Fake Taxi, and many others. For a comprehensive list of her work, please refer to XBiz.
Victoria Summers
Victoria, a blonde model and XXX star, describes herself as a rebel. However, upon viewing some of the scenes she has shot in her career, such as Victoria Summers Fake Taxi, anal, or POV scenes, one may think that this is an understatement. During her time in school, she often found herself in trouble due to her foul language and skipping classes to meet boys. As soon as she turned 18 and finished school, she immediately entered the adult world of topless modeling.
She embraced her newfound freedom and enjoyed the attention her tall and slim figure received. She received adulation from Twitter followers and devoted fans who wanted to worship her. Victoria began working for top shelf magazines and it didn't take long before she started receiving offers for porn films. Being sexually liberated, Victoria decided to pursue it and found immense joy in it, shaping it into a full-fledged career. She quickly gained a reputation as one of the leading British porn stars in the industry and began working on major porn productions in America.
Experience the ultimate Porn Star phone sex by engaging in hot live conversations with the hottest UK Porn Stars. If you have always desired to reenact a hardcore or sensual scene from your favourite TV porn star, then consider yourself lucky as Babestation offers real UK porn stars who are incredibly passionate and readily available to fulfill your desires. Don't just fantasize about it, take action and make the call now because all of Babestation's babes are skilled at providing an unmatched porn star experience, without any hidden fees or premium rate numbers.
These attractive babes are sure to provide you with raunchy phone experiences. The explicit language that comes out of their mouths is something you need to hear to believe! You can catch some of them, such as Amanda Rendall, on pervcam or during their live appearances on the babeshows. As for other babeshow favourites like Jada and Georgie Darby, you can enjoy their past pictures and videos by becoming a Babestation VIP member.
Sexting & Text Chat:
It's not just about talking either. If you're interested in exchanging explicit text messages with attractive nude cam babes and glamour models, then you've come to the right place. We offer a wide selection of SMS numbers that you can message to have some naughty fun on your phone. Additionally, our Sexting service allows you to directly connect with the Babestation models. Simply register and add credits to your account, and you'll be able to exchange explicit and arousing messages with the Babestation babes. You can even share your own explicit pictures with them, while they send exclusive sexy pictures directly to you. If you're into voyeurism, this service could be perfect for you.
Babecall: What Is It? How Do I Harness It's Power For Adult Phone Chat?
Babecall offers a comprehensive wallet that allows you to access various services. With Babecall, you can enjoy watching Pervcam and engage in live interaction with the attractive babes from Babestation. You have the option of indulging in explicit phone sex or engaging in naked xxx-rated fun, either in a group setting or through a private one-to-one session, all from the convenience of your mobile phone. To begin using Babecall, simply visit babestation.tv. If you would like to learn more about the services and advantages provided by Babecall..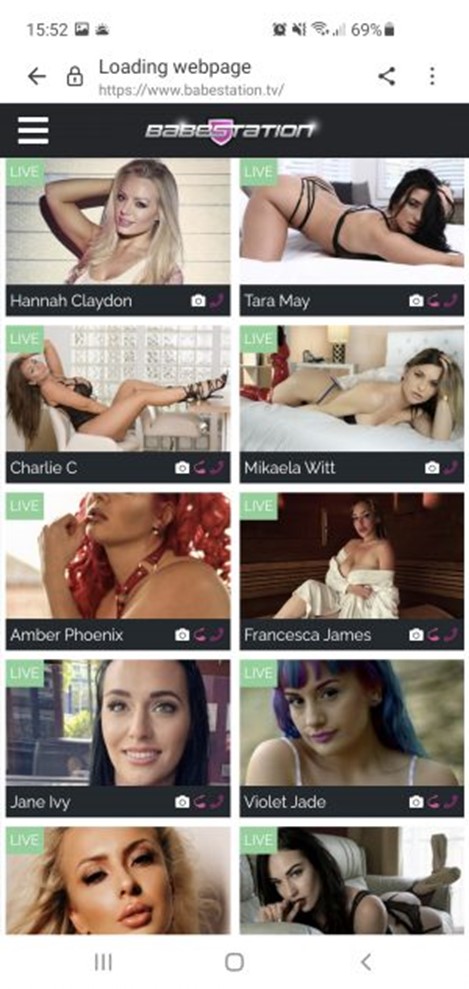 Registration:
Once you have completed the registration process, you will be directed to the main page where you can view a comprehensive list of attractive women who are currently available for interactive experiences. However, before proceeding, it is necessary to obtain some credits.
Buying Credits and Topping-Up:
By clicking on the button located in the upper left corner, you can access a drop-down menu that displays all the features available in the app. At the beginning of the list, you will find a link that takes you to the credit top-up page, which is necessary for interacting with the babes. This process is straightforward and hassle-free, and we frequently offer special promotions that allow you to obtain additional free credits, ensuring that your funds go even further.
Once you've topped up your credits, here's what you get…
Adult Phone Chat With Babestation Babes
Megan Rox
Megan Rox, an attractive new addition to Babestations, is known for her stunning long blonde hair and legs. She embodies the persona of a mischievous girl next door. If you are searching for more enticing young adults to partake in intimate phone conversations with.
Atlanta Moreno
Atlanta Moreno, an incredibly captivating British webcam sex babe who is poised to make her mark as a prominent adult film star in the United Kingdom. It's easy to understand why she has garnered such widespread appeal with her stunning appearance, mesmerizing performances, and impressive flexibility. With her alluring legs and striking green eyes, Atlanta is undoubtedly the epitome of sensuality and is guaranteed to provide an unforgettable experience on any phone sex line.
Lynda Leigh
Lynda Leigh, a renowned and highly desired mature MILF cougar from Babestation, is an esteemed model who is considered one of the most attractive cougars in the babe channel industry. She derives satisfaction from showcasing her wealth of knowledge to younger men while proudly displaying her generous bosom and impeccably groomed intimate area on Pervcam. Recognized for her expertise in phone sex, she excels in engaging in JOI / CEI sexual dialogues and exploring various kinky topics. If you are seeking an older woman with ample breasts, Lynda is the ideal choice for you.
Beth Bennett
Beth Bennet, a stunning model with blonde hair and blue eyes, is famous for her exceptional intellect and ability to speak eloquently while on stage. She possesses a strong passion for engaging in conversations about controversial or unconventional subjects, particularly those pertaining to kink fetish and role play. Beth is someone you can trust to discuss your deepest desires openly, including BDSM activities, intense sexual encounters, feet worship, bondage, domination, financial dominance, and explicit interactions between women.
Preeti Young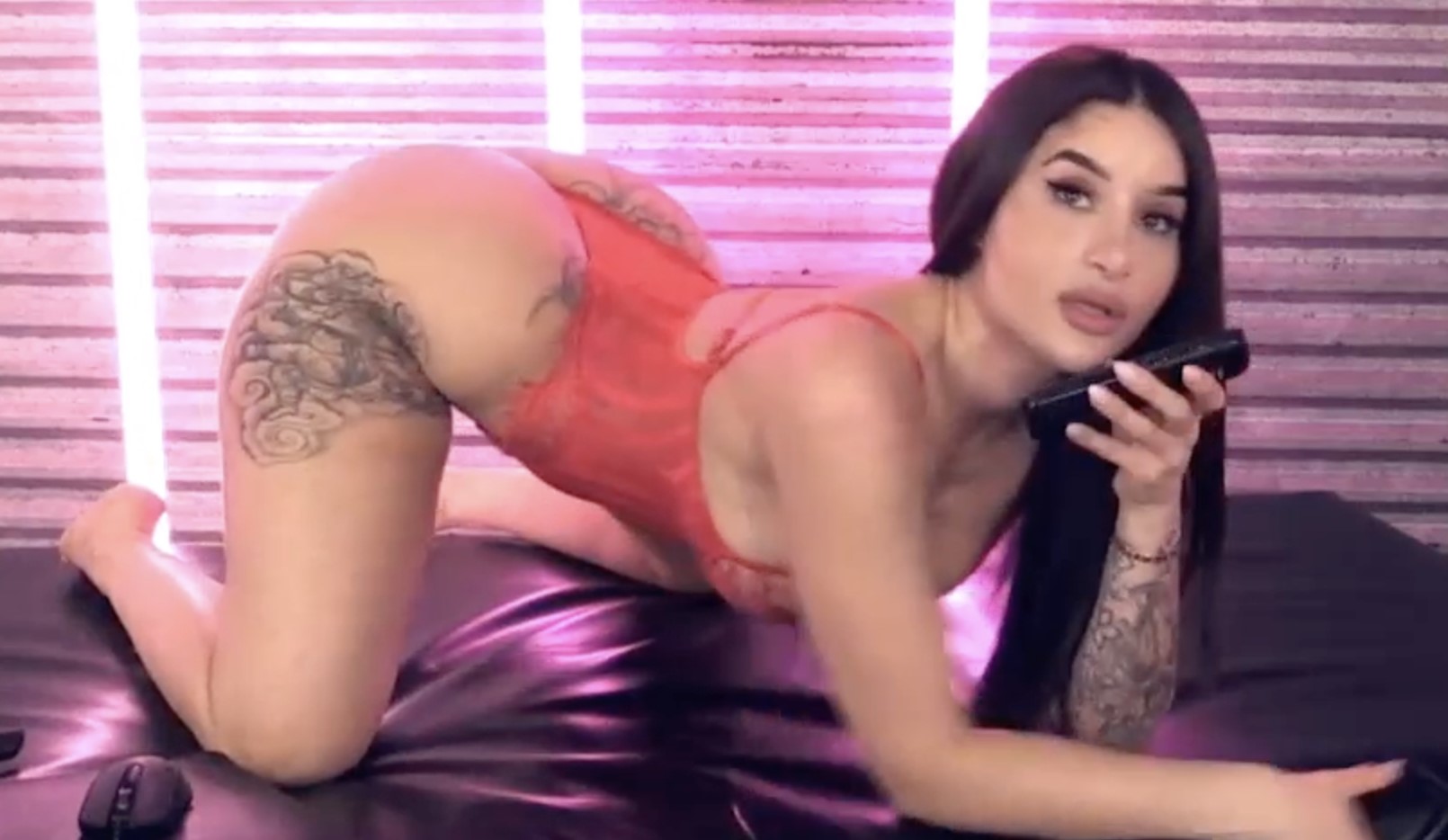 Preeti Young Babestation started her career as a glamour model alongside her twin sister, Priya Young. They were discovered by a men's magazine and subsequently engaged in numerous explicit photo shoots and videos for VIP, which eventually led to a successful career and increased popularity as the Young twins of Babestation. The names Preeti and Priya Young became widely recognized in the world of adult entertainment. In addition to Babestation, Preeti has also made appearances on Redlight TV and Studio 66. However, it is on Babestation where Preeti has truly excelled. What sets Preeti Young apart from others are her genuine passion for being in front of the camera, particularly when she can showcase her naked or oiled-up self while engaging in explicit phone sex sessions that cater to various desires (JOI). Experience the full range of Preeti Young's adult content and witness her captivating booty shake exclusively for you. Alternatively, you can find her on Twitter or subscribe to her OnlyFans account under the name Preeti Young.
Niche Adult Phone Chat Categories
It is important to mention that Babestation's phone sex page provides a wide range of categories that cater to whatever niche you're looking for. These include:
Swingers Phone Sex
It is not surprising that the babes at Babestation, who are incredibly attractive, are not monogamous. These girls always seize every opportunity to have as much sex as they can. As a result, many of the Babestation babes enjoy swinging. They go even further by sharing their explicit experiences with you through live and private phone sex calls.
You can start enjoying a swingers credit card phone sex chat immediately by signing up for Babecall! Our babes have an insatiable desire for excitement and adventure, which extends to those who engage in our swingers adult phone chat services. They thoroughly enjoy spending their free time participating in thrilling swinging events and large-scale group sex encounters, resulting in some captivating stories. Join us on our swingers mobile phone sex line now to listen to all of it!
Hardcore Phone Sex
The Babestation models enjoy working at Babestation because it allows them to engage in their preferred activity - explicit, hardcore content. There are currently numerous live Babestation models available, eagerly waiting for a steamy voice hardcore phone sex session with attractive individuals like yourself. By simply registering, you can quickly connect and engage in a credit card phone sex conversation with the most attractive models in Britain within seconds.
Alternatively, you can dial our premium rate phone sex lines that offer explicit content. There are thousands of models at home who are patiently waiting to engage in a sexual chat with you. Our affordable phone sex service features passionate women who openly express their enthusiasm for sexual encounters. They will enthusiastically respond to your fast and intense movements, and even perform deepthroating acts that will heighten their pleasure. If you desire an intense yet affordable conversation about sex with our bold ladies, simply dial our inexpensive UK phone sex hotline and provide them with an unforgettable experience.
Granny Phone Sex
We have a vast selection of experienced and mature women who are ready to satisfy your desires with their expertise. Despite their age, they possess the necessary skills to arouse you and will not hesitate to explore your fantasies. They are open-minded and willing to engage in intimate conversations, providing you with an unforgettable experience. If you're interested in connecting with one of our knowledgeable ladies, please contact our phone sex service for mature women today.
Are you interested in listening to the delightful sounds of an elderly woman experiencing pleasure? Would you like to hear her express explicit thoughts that only someone her age could conceive? If so, we have precisely what you desire. Our GILF Phone Sex service is tailored to your needs. By dialing the GILF phone sex number, you can fulfill all your fantasies about engaging in intimate conversations with older women. At present, we have a selection of grannies who are eagerly seeking naughty and exciting encounters.
If you prefer women who are older, more mature, and experienced, our sexually eager grannies are available for you. They eagerly await your guidance and desire someone who can fully appreciate their sexuality, just like you. Click here to access all of the phone sex numbers immediately!
Lesbian Phone Sex
When Babestation models are in the studio, among all the other attractive and appealing women, they behave just like any other fan of Babestation – their gaze is fixated on these beautiful women! On Babestation TV and live cams, they engage in various activities involving women, and they eagerly look forward to sharing all the details with you through a credit card phone sex session. Sign up for Babecall today and within seconds, you can have a one-on-one conversation with a Babestation model. Alternatively, you can call our top premium rate numbers right away to connect directly with our lesbian phone sex chat operators.
Our phone chat lines dedicated to lesbian conversations offer a diverse selection of women, including those who identify as lesbians, bisexuals, or have previously had exploratory experiences. Irrespective of their sexual preferences, our female callers derive immense pleasure from sharing their provocative encounters with callers and listening to your own fantasies about lesbian experiences. Call our lesbian phone sex chat line today and prepare to immerse yourself in the most explicit stories shared by our passionate female callers!
Small Tits Phone Sex
Babestation offers a wide variety of busty babes, with some having natural assets while others have undergone enhancements. However, fans who prefer smaller breasts should not worry. The home of British babes caters to individuals of all shapes and sizes. Our collection includes petite babes with slimmer figures and smaller breasts, eagerly waiting for you to engage with them during a phone sex call. Small-breasted babe enthusiasts can easily connect with numerous attractive Babestation babes by registering HERE. Start a budget-friendly mobile phone sex chat with a babe boasting smaller assets immediately.
It is crucial to keep in mind that size is not the sole determining factor. Women with smaller breasts are fully aware of this reality, and despite having less volume, they possess an enchanting allure that more than compensates for it. If you desire an exhilarating encounter, contemplate participating in a phone sex conversation with these women and allow yourself to be aroused by their irresistible charm.
More Adult Phone Chat at Babestation